What is Happening in Vail Valley this Fall 2022
What is Happening in Vail Valley this Fall 2022
Fall in Colorado Rocky Mountain is usually the most affordable time to explore Vail. Visitors can save almost 50% on lodging and dining. Between all the fun events like Oktoberfest, Vail and Beaver Creek Restaurant Week, along with free live music, yoga, and hiking, there are endless ways to enjoy the valley without breaking the bank.
While Vail is undoubtedly magical in winter, the town's unsung glory days are often in early October — when shop windows pack colorful pansies, when the crowds have gone, the weather is still nice and warm, and golden hues cascade down the mountains.
Outdoor adventure, relaxation, crisp weather, ideal leaf peeping, and great food and wine –Vail Valley provides the perfect fall escape.
Here are some of our favorite ways to spend shoulder season in Vail Valley this October 2022.
Many people flock to the most popular places in Vail for leaf-peeping, so do expect some crowds, especially on weekends. However, Vail in October is relatively quiet, local, and very peaceful.
ORQUESTA AKOKÁN at the Vilar Performing Arts Center Beaver Creek
UNDERGROUND SOUND SERIES on October 6, 2022 7:00 pm
When Orquesta Akokán burst onto the global music scene a mere three years ago, their no-holds-barred 21st century take on the venerable Cuban mambo lit up stages around the world with a fierce and unremitting joy. Singer José "Pepito" Gómez, Chulo Records producer and multi-instrumentalist Jacob Plasse, and arranger Michael Eckroth joined forces with a carefully curated selection of Havana's most extraordinary musicians as Orquesta Akokán, polishing Cuban mambo's golden sound to a luminous, contemporary sheen.
Along the way, Orquesta Akokán imbued these legendary Cuban grooves with a renewed vitality and powerful sense of akokán —the Yoruba word used by Cubans to mean "from the heart" or "soul."
General Admission Tickets are $20 each. You can also get an Underground Sound Pass for $125, that includes General Admission to all 6 Underground Sound Shows, Choice of 1 Complimentary UGS Pass Beer, Wine or NA Beverage and the pass is Fully Transferable
Venue Address: Vilar Performing Arts Center Beaver Creek, 68 Avondale Ln, Beaver Creek, CO
For more info visit https://vilarpac.org/event/orquesta-akokan/

Live Music at La Tour Restaurant in Vail: Kevin Danzig
Thu, Oct 06, 2022, 5:30pm-8:00pm
Local favorite Kevin Danzig performs a variety of folk rock favorites and his original songs on the patio. The event is free. Purchasing food or drinks is encouraged.
Venue Address: La Tour Restaurant
122 E Meadow Dr, Vail, CO
For more info visit https://latour-vail.com/
Pop-Up Picnic in the Park Couple Date Night+ 5 Love Languages
Thu, Oct 6, 10 AM – Sun, Oct 9, 3 PM
Watch sunset with fun digital activities over picnic!
POP-UP PICNIC IN THE PARK DATE NIGHT INCLUDES:
Enjoy a fun pop – up picnic sunset date for couples in Avon, Colorado! Since our a date nights are self-guided you can go any time on any day. Each date night consists of a series of activities that you are guided to complete.
All you need is your own mobile device and an Internet connection to access your Digital Date Nite Box. At DNB we pride ourselves on covering all 5 love languages in every date night so all the following is included in your digital date night box when we send it over with registration, to create a night to remember!
* Parking and/or park fees for the location you choose not included.
Venue Address: Harry A. Nottingham Park
414 W Beaver Creek Blvd, Avon, CO
For more info visit https://allevents.in/avon/pop-up-picnic-in-the-park-couple-date-night-5-love-languages-self-guided/2200023387299415
Bulb Sale at Betty Ford Alpine Gardens
Fri, Oct 7, 10 AM – 4 PM
Shop a carefully curated selection of unusual bulbs! Hardy, deer resistant and naturalizing bulbs such as: Allium, Fritillaria, Daffodils, Crocus, Species Tulips, Trillium, Shooting Star & more to keep your garden blooming through summer.
Venue Address: Betty Ford Alpine Gardens
522 S Frontage Rd E, Vail, CO
For more info visit https://bettyfordalpinegardens.org/
Vail Annual Ski & Snowboard Swap
The annual Vail Ski & Snowboard Swap is back again this fall! Mark your calendars and do not miss it!
October 7: 3pm – 9pm
October 8: 10am – 6pm
October 9: 11am – 3pm
The 2022 Vail Ski & Snowboard Swap is the best place to find all you need for the upcoming winter.  Products will include everything from alpine skis, and snowboards, to boots and bindings, and a large selection of winter clothing and accessories such as helmets, gloves and goggles will also be available for purchase.
There will be a great selection of new and used products at this year's swap. Used gear from the general public will be available at great and very affordable prices.
Venue Address: Dobson Ice Arena, 321 East Lionshead Circle
Vail, CO 81657
For more info visit https://www.vailskiswap.com/
Free Nature Walks at Walking Mountain Science Center
Fri, Oct 07 and Oct 8, 2022, 2:00pm-3:00pm
Mon, Oct 10 and Oct 11, 2022, 2:00pm-3:00pm
A free nature walk is a perfect introduction to Colorado's natural world. Join a Naturalist for a free gentle educational hike through aspen and riparian communities at our Avon Tang Campus location. Learn about the ecology and animal adaptations of this mountain environment. Come prepared to spend an hour outside with appropriate clothing, hiking shoes, and water. Most ages and abilities. Registration Required. Register online.
Venue Address: Walking Mountains Science Center, 0318 Walking Mountains Ln, Avon, CO 81620
For more info visit https://walkingmountains.ticketspice.com/2020-avon-nature-walk

Vail Farmers' Market & Art Show
Vail Village | Meadow Drive | 9:30AM – 3:30PM
Sundays | 6/19 – 10/9 – Now extended an additional weekend! Last Farmers' Market this year!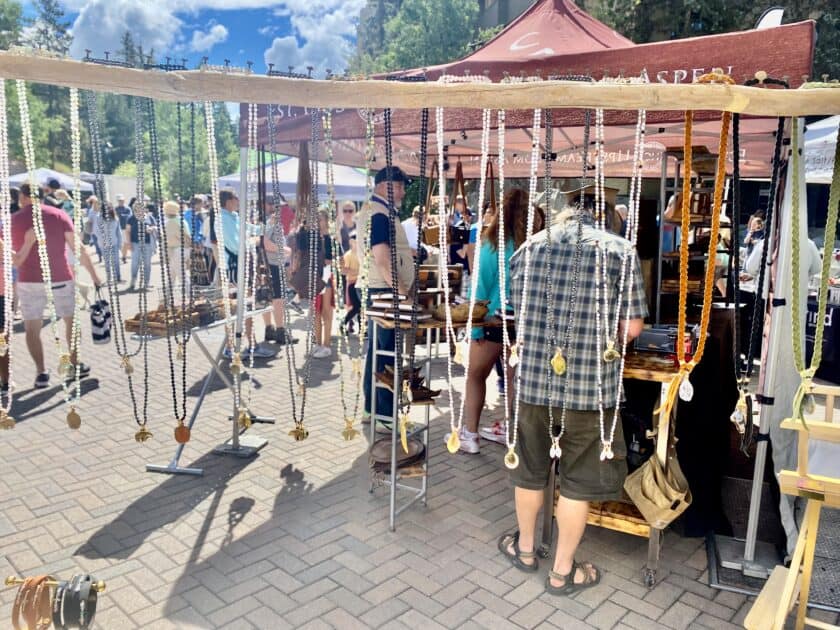 The Vail Farmers Market and Art Show is entering 21 years in Vail on Meadow Drive. The event started with a few tents and now has grown to over 148 tents for 16 Sundays of the summer. All the vendors have been handpicked with our guests in mind. We work to have the majority of our vendors having made in Colorado artisan items and food. We ring people from all over to enjoy the mountain lifestyle on a Sunday.
Enjoy strolling down East Meadow Drive in Vail while tasting treats from Colorado. Parking for the Market is at the Vail Village Parking or Lionshead Parking. The Market begins June 19th and goes through October 9nd, 2022.
Venue Address: East Meadow Drive, Vail Village, CO, 81657
For more info visit https://www.vailfarmersmarket.com/
Cupcakes & Canvas
Want a fun and creative afternoon in the company of friends and family? Alpine Arts Center will lead you step-by-step through the featured project and provide all materials. The class is $45 per person and includes a cupcake! Wine/beer is $6 per glass (all alcoholic beverages must be purchased through our bar; non-alcoholic options available too). Advanced registration required.
Can't make this class but want to get creative? Alpine Arts Center offers drop-in hours Tuesday through Saturday 11am-6pm and Sunday 12pm-5pm for painting, clay, crafts, paint pottery and more!
You can also arrange a private lesson or a private group event anytime! Call us at 970-926-2732 for scheduling.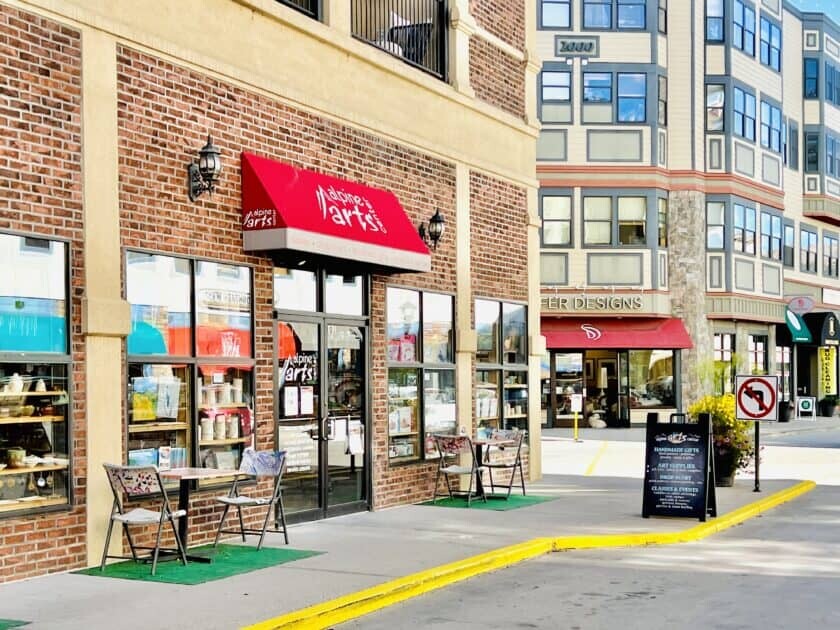 Venue Address: Alpine Arts Center
280 Main St C-101, Edwards, CO
For more info visit https://alpineartscenter.org/upcoming-events
Live Music in Vail: BBQ Mike & Friends
Wednesday, October 12, 19, 26, November 02, 2022, 7:30pm-9:30pm
10th Mountain Whiskey Music Series presents BBQ Mike & Friends every Wednesday Night from 7:30 to 9:30. Come by for a cocktail and stay for the great live music. We will see you there.
Venue Address: 10th Mountain Whiskey & Spirits
227 Bridge St, Vail, CO
For more info visit https://10thwhiskey.com/

Family Storytime at The Avon Library
Every Wednesday, October 12, 19, 26, November 02, 2022, 11:00am-12:00pm
Join in the fun with theme-based stories, songs, rhymes and more to encourage the development of early literacy skills for children 0-6 years old. Followed by a craft.
Venue Address: Avon Branch Library
200 Benchmark Rd, Avon, CO
For more info visit https://www.evld.org/storytimes
EagleARTS 2nd Friday ARTwalk
Fri, October 14, 5 – 8 PM
Our charming galleries, shops, and restaurants will be offering art exhibitions, live music, sales, and specials for a fun evening out every 2nd Friday of the month in Historic Downtown Eagle!!!
Presented by EagleARTS, ARTSPaCE workshop+gallery with funding from the Town of Eagle, Colorado Creative Industries, and the National Endowment for the Arts and our downtown business community.
Venue Address: Eagle County History Museum
100 Fairgrounds Rd, Eagle, CO
For more info visit https://www.eaglearts.org/
Live Music in Avon: Al Maul
Friday, October 14, 21, 28 7-10 PM
Al Maul is a published local musician. Plays every Friday at Ein Prosit in Avon. The only Bavarian and Belgian beer hall in Avon, Colorado. Patio seating available. Serving the finest beers, traditional and exotic sausages, sandwiches, soup and Bavarian pretzels.
Venue Address: Ein Prosit
82 E Beaver Creek Blvd, Avon, CO
For more info, please visit https://www.facebook.com/events/383403960369858/383403987036522/
Man of the Cliff at the Nottingham Park in Avon
Saturday, October 15 and October 16, 2022, 10:00am-5:00pm
The 12th annual Man of the Cliff returns to Avon for another round of lumber-jack games and outdoor ruggedness! Man of the Cliff is your chance to don your favorite flannel and try your hand at axe throwing, keg tossing, speed chopping, and more! All the while, enjoy craft brews, local food trucks, and mountain town vibes.
Venue Address: Harry A. Nottingham Park, 414 W Beaver Creek Blvd, Avon, CO
For more info, please visit https://www.avon.org/calendar.aspx?CID=14,30,27,26,15,29&showPastEvents=false
The bRUNch Trail Run 5K + 15K in Beaver Creek
Sat, Oct 15, 8 AM – 12 PM
Denver's most delicious social run club, Brunch Running and World Playground, the ultimate bucket list adventure community, bring you The bRUNch Trail Run.
The cost Is $29 for children, and $65 for adults.
Think trail race meets food festival. Enjoy a morning running or hiking through the fall colors as you ascend paths lined with iconic Aspen trees, finish line high fives and hugs, tears of joy, a scented finisher's medal and brunch bites while raising money for Operation Underground Railroad (O.U.R).
Venue Address: Beaver Creek Resort
210 Beaver Creek Plaza, Beaver Creek, CO
For more info visit https://www.beavercreek.com/
Live Music in Edwards: Brendan McKinney
Tuesday, October 11, 18, 2022, 5:00pm-8:00pm
Guitar player and singer plays and eclectic set.
Venue Address: Drunken Goat
56 Edwards Village Blvd Unit 104, Edwards, CO
For more info visit https://drunkengoatco.com/
Beaver Creek, CO || GROW Retreat with Andrea Rogers + XTEND BARRE
October 19 – 23, 2022, Group size: 30 – 40
For 5 Days (4 Nights) – Experience the breathtaking fall foliage of one of the most pristine beautiful places on earth – Beaver Creek, CO – all while being luxuriously enveloped with the finest accommodations provided by The Ritz Carlton- Bachelor Gulch.
Andrea Rogers welcomes you to join her on this amazing adventure to the mountains. Travel safely with a tribe of like minded ladies. The theme of this extremely special retreat is focused on GROWING through MINDFULNESS. It is amazing what you can accomplish when you have the right focus on the right things.
Venue Address: Ritz Carlton at Bachelor Gulch, 0130 Daybreak Ridge Rd, Avon, CO 81620
For more info, please visit https://andrealeighrogers.com/travel/
The Ethical Leadership Forum
October 20 – October 21
The Ethical Leadership Forum is a collaborative event that brings together emerging and experienced leaders across sectors—education, non-profit, business, government, philanthropy, media, and more—to learn, share and grow their unique and interconnected ways of advancing ethical leadership.
This year, the Forum will interactively explore our theme, "Emerging Strategies for an Ethical World," featuring new session formats to inspire, inform, and interconnect ideas beyond the conventional conference setting. Join us in the natural beauty of Vail, Colorado, to connect and collaborate towards a more ethical & thriving world.
Venue Address: 241 S Frontage Rd W #8150
Vail, CO 81657
For more info visit https://www.ethicalleadershipforum.org/
Vail Symposium: Overworked and Under Threat
October 20 @ 6:00 pm – 7:30 pm MDT
Overworked and Under Threat: Preserving the Colorado River
The Colorado River is a workhorse – sustaining life as we know it for more than 40 million people in 7 Western states and two countries; providing water to irrigate crops, sustaining communities with drinking water, and supporting incredible recreational opportunities and diverse wildlife. All in all, it provides an economic benefit of $1.4 trillion – including a $26 billion recreation economy and hundreds of thousands of jobs. However, we should all understand that it is impossible to ignore the state of the Colorado River.
From our local papers to the New York Times, headlines of dropping reservoir levels, low flows, and increased demand are abundant. This complex system established with the Colorado River Compact of 1922 – and over-allocated at its inception – is strained.
With more demand and a more unpredictable water future, how do we move forward? What role do we play and what actions can we take as a headwaters state? How do we balance a system of diverse and demanding uses? How do we find hope?
Join Vail Symposium and Eagle River Watershed Council as our moderator, journalist Luke Runyon, guides us through a conversation with Colorado River and water management experts Pat Mulroy, and Fay Hartman to learn about key challenges that have led us to critical levels and how the collective we take action to protect the mighty Colorado River and our way of life.
The Vail Symposium is a grassroots, non-profit organization which provides educational programs for the Vail Valley community. These are intended to be thought-provoking, diverse and affordable events for all.
Venue Address: Colorado Mountain College Vail Valley
150 Miller Ranch Rd, Edwards, CO 81632
For more info visit https://vailsymposium.org/
Vail Comedy Show – Sam Tallent & Special Guests
October 20, 7:00 pm – 9:30 pm
The Vail Comedy Show brings nationally touring comedians to Vail that have been featured in film and television like Late Night with Stephen Colbert on CBS, CONAN, HBO, Comedy Central, NBC and more.
Sam Tallent [NETFLIX, Comedy Central, Amazon Prime, Juno Nominated] (Los Angeles, CA–originally Toronto, Canada)
Austin Black [Iowa's Funniest Person, Floodwater Comedy Festival, Comedy Works Clean Comedy Competition Finalist] (Denver, CO)
Leah Althoff [Four Corners Comedy Festival] (Denver, CO)
Special Guests
Mark Masters [AWE Network, OutsideTV, ESPN, Pro Comedy Tour, Antelope Valley Comedy Festival, SnoJam Comedy Festival, Rubber City Comedy Festival] (Colorado)
The event is scheduled for Thursday October 20, 2022 7:00PM at Sarah's Lounge. Doors open at 7:00 pm, show starts at 8, arrive early for best seating, lineup subject to change. Get tickets early! Event is 21 and up.
Venue Address: Sarah's Lounge – 356 Hanson Ranch Rd., Vail, CO 81657
For more info visit https://www.vailcomedyshow.com/events/October-20-2022-Sam-Tallent-Austin-Black-Leah-Althoff-Mark-Masters.html
Friday Afternoon Stitching in Edwards
Friday, October 21, 28 2022 , 3:00pm-6:00pm
Gather with us to get your weekend kicked off right. Bring your project or we can help you find a new one. It's a great way to meet new people with shared interests, get inspired by what others are working on and get connected. Stitchers of all kinds are welcome!
Venue Address: Maker+Stitch, Edwards Corner, Edwards, CO
For more info visit https://makerandstitch.com/products/kfac
Cupcakes & Clay
Sunday, October 23rd 3-4:30 pm
Want a fun and creative afternoon in the company of friends and family? Alpine Arts Center will lead you step-by-step through the featured project and provide all materials. The class is $45 per person and includes a cupcake! Your clay class includes all materials for ceramic mug making: instruction and firing/glazing based on a set glaze for the entire class. Projects will be ready to pick up approximately 2 weeks later, or shipping can be arranged at an additional fee. If you prefer to glaze your own piece, you may opt to do that for a half-price drop-in fee of $8; please ask your instructor if you are interested in this add-on.
Venue Address: Alpine Arts Center
280 Main St C-101, Edwards, CO
For more info visit https://alpineartscenter.org/event/cupcakes-clay-11/

Trick or Treat Trot
October 31 @ 2:00 pm – 5:00 pm
Get ready for Halloween fun! The Vail Recreation District will host the 29th Annual Trick or Treat Trot on Sunday, October 31, 2022. The Trick or Treat Trot is a great opportunity for kids (infants up to 10-year-olds, plus their families) to trick-or-treat through the streets of Vail from 2 to 5 p.m.
Participating merchants will have an orange jack-o-lantern leaf bag outside their front door. Trick-or-treating may begin in Lionshead or Vail Village. The Trick or Treat Trot takes place rain, snow or shine! Participants are asked to bring their own reusable bags.
The VRD is also hosting a Halloween coloring contest! Download the Coloring Contest information page and coloring sheet and get your kids started on creating their Halloween-inspired drawing. Entries are due by Monday, Oct. 24 and can be dropped off at the Vail Public Library, Imagination Station or Red Sandstone Elementary School in Vail.
The Vail Public Library will be hosting some fun events as well! The Halloween-themed puppet show with Sandy Fuller Ferguson takes place before the Trick or Treat Trot on Monday, Oct. 31 at 1 p.m. Additionally, the Annual Scarecrow Decorating Contest takes place Saturday, Nov. 5 from 10 to 11:30 a.m. The scarecrows will be on display at the library from Nov. 5 to Nov. 21.
Venue Address: Vail Village, Vail, CO 81657
For more info visit https://www.vailrec.com/sports-activities/tournaments-events/trick-or-treat-trot
Bottom Line:
In this article, we have listed just a few of the special events happening in Vail Valley for this October 2022.
Of course, the 'usual' Vail fall fun is in full swing – such as Dining at Vail's Best Restaurants, Shopping, Mountain Biking, Hiking, Fishing, and do not forget that Colorado in fall is a stunning place and with giant aspen groves, Vail puts on quite the display. Many of the best ways to view the fall colors can be found in the Vail Valley.
In fact, Vail during the fall is one of the top places to see in Colorado. It's pure magic! Affordable lodging and fewer crowds in the later months, Vail in fall is the perfect place to get some tranquil mountain time.
Many people flock to the most popular places in Vail for leaf-peeping, so do expect some crowds, especially on weekends. However, Vail in October is relatively quiet, local, and very peaceful.
How to Get to Vail, Avon, Beaver Creek or Edwards? What is the best Transportation Service in Vail Valley?
Parking in Vail Valley in October has never been an issue, and it is probably the only time of the year this happens. It is highly recommended to use Public Transport, Private Car Service, Uber or Taxi to get to the events and not have to worry about parking. Free on street parking is very limited in the Valley.
Vail Village Parking Structure fills up very quickly. You can also use Solaris Parking for an additional fee. Use of Public Transportation or Private Transportation Services is advised to avoid the hassle of looking for a place to park.
There are many Vail transportation services to choose from. Vail Blue Sky Limo offers private and reliable Vail taxi and private Vail car service to every Colorado Resort you can think of. Families coming to visit sunny Vail Colorado can book private SUV service 24/7. You will be driven to some of the best Vail events or restaurants, or any other attractions Colorado Rocky Mountains have to offer.
Blue Sky Limo will make your vacation stress-free, and will eliminate the parking hassle so you can spend more time having fun on the mountain. Whether you are staying at one of the resort villages, a local Vail hotel or a private residence in Beaver Creek or Edwards, an experienced chauffeur will pick you up for safe, direct transport anywhere you decide to go. Prearranged Vail Car Service is available 24/7. Sit Back, Relax and Enjoy The Ride with Vail Blue Sky Limo!
What can you do in Vail in October?
·         Sample the local flavors. Although Vail Village tends to take a break during the offseason, there are still several restaurants open year-round, and most of them will be offering the best specials of the year!
·         Go biking and enjoy fall colors around you
·         Take a day hike and enjoy leaf-peeping in the Mountains. Unforgettable experience!
·         Pamper yourself. Massage, Facial, Manicure, Pedicure…Vail Valley has a lot to offer! Relax and Recharge!
·         How about a round of Golf?
·         Vail Mountain's Scenic Gondola & Epic Discovery. Get your adrenaline rush!
·         Catch a live show in Vail, Avon or Edwards.
·         Giddy Up!
Is Vail worth visiting in the fall?
Fall is one of the best times of year to visit the Vail Valley. The temperature starts to drop, which results in stunning fall foliage as the leaves change. There are many "off-season" specials and deals to take advantage of during this time. So go have fun in the valley without breaking the bank
Is October a good time to go to Vail?
With the summer crowds long gone and skiers still on their way, late fall tourists have Vail (and its super affordable hotel rates) to themselves. However, be prepared for frosty weather – average highs range from the low 50s to the mid-30s – without the guarantee of snow. Lots of sunshine is guaranteed!
What is Vail like in October?
The average minimum temperature (usually the minimum temperature is noted during the night) in Vail in October is -7.0°C (19°F). The amount of rain/snow in October is normal with an average of 60mm (2.4in). The average maximum daytime temperature lies around 11.0°C (52°F).
What is Vail like in the fall?
Outdoor adventure, relaxation, crisp weather, ideal leaf peeping, and great food and wine – Vail Village provides the perfect fall escape. As the Aspen trees prepare for winter slumber, they mark their grand exit by blanketing the mountainous landscape in leaves of spun gold – a breathtaking sight.
Can you hike in Vail in October?
You sure can! Rated as difficult, the Berrypicker trail is well worth the heart-pounding climb to the top of Vail Mountain. Drastically winding through meadows of wildflowers (not much in the fall), pine forests, and aspen groves it is easy to see why this is one of the most popular fall hikes in Vail. There are also many other easier hikes to enjoy all over the Valley.
Is October a good time to go to Colorado?
In general, the best time to visit Colorado is June through October, when visitors can enjoy Colorado's scenery with hiking trails, water sports, and drives through high-elevation mountain passes. Although lower elevations can get hot in summer, you can always escape to the mountains to cool off on super hot days.
Does it snow in October in Vail?
Sunshine. Rain. Snowfall. You may see it all. Months with snowfall in Vail are usually January through December. In Vail, during October, you never know what to expect, and you can get lots of snow ot none at all. It is impossible to predict the weather.
Does Vail give you altitude sickness?
The base of Vail, Colorado sits at 8,022 feet (2,445 meters) above sea level and the summit rises to 11,570 feet (3,527 meters). As with any trip to the mountains of Colorado, altitude sickness is something that travelers should keep in mind. Just remember to stay hydrated at all times. This will help you out a lot!
What do you wear in Vail in the fall?
 So bottom line, you always need layers in Vail, even in summer! You should bring a full spectrum from shorts to a wool coat for your trip to Vail in the fall. The sun is very powerful all year round at high-altitude, so make sure you wear sunscreen!
What should I bring to Vail in the fall?
·         Boots. Hiking boots, riding boots, rain boots, cute boots…All kinds of boots for every occasion
·         A Fleece or Jacket. You are going to want a warmer layer.
·         Rain Jacket. Having an umbrella or rain jacket is a must for the changing Colorado weather.
·         Warm Accessories. You might want to pack a hat as well, just in case you'd like to keep your ears warm.
·         Camera.
·         Sunglasses.
Do I need snow tires to drive from Denver to Vail?
Essentially, the law requires all cars traveling on I-70 to have either snow tires, tires with the mud/snow designation, or four-wheel drive vehicles. Additionally, all tires must have a minimum one-eighth inch tread. If you're found not following any of these requirements, your fine could range from $130 to $1000!
If You Enjoyed This Post - Please Share It!