Vail Eagle Airport Car Service
Eagle County Airport Transportation
Eagle Vail Airport Transportation
Eagle, Colorado Luxury Car Service
See What Our Customers Are Saying!
Eagle County Airport Private Car Service
Blue Sky Limo in Eagle, Colorado offers luxury private Vail airport transportation services
at highly competitive prices, provided by highly trained professional drivers.
(EGE) Eagle Airport Car Service
Relaxing, reliable and convenient, our Eagle airport car service will transport you and your party in style and comfort to and from Eagle Airport. Let us worry about your travel arrangements while you sit back and enjoy the ride. All our vehicles come equipped with cutting-edge in car entertainment systems, fast Wi-Fi, device charging stations, complementary beverages, the latest magazines, and much more for your pleasure and convenience.
Eagle Airport Transportation
There are several transportation options available at Eagle/Vail County Airport. These include shared vans, taxi service, private SUVs and car rentals. There are several factors to consider when arranging how to travel to and from Eagle Regional. The most important of these is going to be budget, number of travelers and time of year.
A private Eagle airport transportation service with a chauffeured SUV allows the greatest flexibility, convenience and piece of mind of all the options available at EGE. With a confirmed reservation you will know for sure that there will be a driver to meet you as you disembark your flight. Typically these companies use large high-end SUVs with 4WD which is the preferred means of transfer through the Rockies, especially during the winter months when weather conditions might become dangerous very quickly.
Vail Airport Transportation
If you're looking for the ultimate in Vail airport transportation, look no further than BlueSkyLimo! We offer a wide range of premier vehicles to choose from, all of which are roomy and comfortable. We also provide a variety of amenities such as complimentary child car seats to make your travel experience as smooth and stress-free as possible. Whether you need a ride to or from the airport, or simply want to enjoy a comfortable transfer while you're in town, our professional drivers can provide you with the perfect solution. We offer convenient schedules and operate 24/7.
Vail Airport Car Service
If you are flying into Vail airport, you will need to arrange for ground transfer to and from the airport. It is important to arrange your means of transport well in advance, especially during the very busy winter season, as many services sell out fast, and the last thing you want is to be stranded at the airport in the middle of a blizzard.
Of all the choices for ground transit to and from Vail, a booked private Vail airport car service (like those provided by Blue Sky Limo Vail Airport) give the most piece of mind, the most flexibility and the greatest amount of comfort and convenience. If these things are important to you, then this is going to be your best choice.
Vail/Eagle-Airport Car Service Rates:
Blue Sky Limo offers private car service to and from Vail/Eagle Airport. Our professional and courteous drivers are ready to assist you in all your travel requirements. We will meet you directly inside the terminal exactly on time. Our company actively monitors all flight information and will arrive depending on your flight itinerary. We are fully flexible and available for Eagle Airport pickup and drop-off 24/7.
Eagle/Vail Airport Transportation
Rates To/From:
Large SUV (1-4 pax)
Large 5/6-PAX SUV (1-6 pax)
Denver/ Denver Airport (DIA)
$750+
$790+
Avon/ Beaver Creek
$275+
$300+
Aspen/ Snowmass
$595+
$625+
Breckenridge/ Keystone
$595+
$625+
Copper Mountain
$595+
$625+
Boulder
$900+
$950+
Glenwood Springs
$500+
$550+
Steamboat Springs
$595+
$625+
PLEASE NOTE: Published rates are heavily dependent on season, weather conditions and vehicle availability. To get a guaranteed quote please use our online booking system which is always up to date, or call our friendly reservations staff.
* Above rates are valid for Online Reservations Only. Booking fee may apply if booked through concierges or via phone.
* 10% Fuel Surcharge will be added to all the rates listed above. The rates listed are per vehicle, not per person. One way, not Round trip.
* Please add 10% to the rate if travelling from 10pm till 6am.
* Online prices may be different if travelling during any Long Weekends, School Breaks, Holiday Periods and Severe Weather Conditions.
* Holiday Surcharge and/or Severe Weather Surcharge may be added.
* $100.00 gate airport fee charged for all Private Jet arrivals and departures.
* All reservations must be canceled at least 72 hours prior to pick-up time. All not canceled trips will be charged in full for the reservation.
Benefits of a Private Car from Eagle Airport
If you are flying into Eagle Airport, you will need to arrange for transfer to and from the airport. It is important to arrange your means of transport well in advance, especially during the very busy winter season, as many services sell out fast, and the last thing you want is to be stranded at the airport in the middle of a blizzard.
The added benefit of our private EGE car service is the fact that your driver is a licensed professional with local knowledge of roads and terrain, who will be able to make detours and provide assistance as needed. This person's job and only concern is your safety and convenience.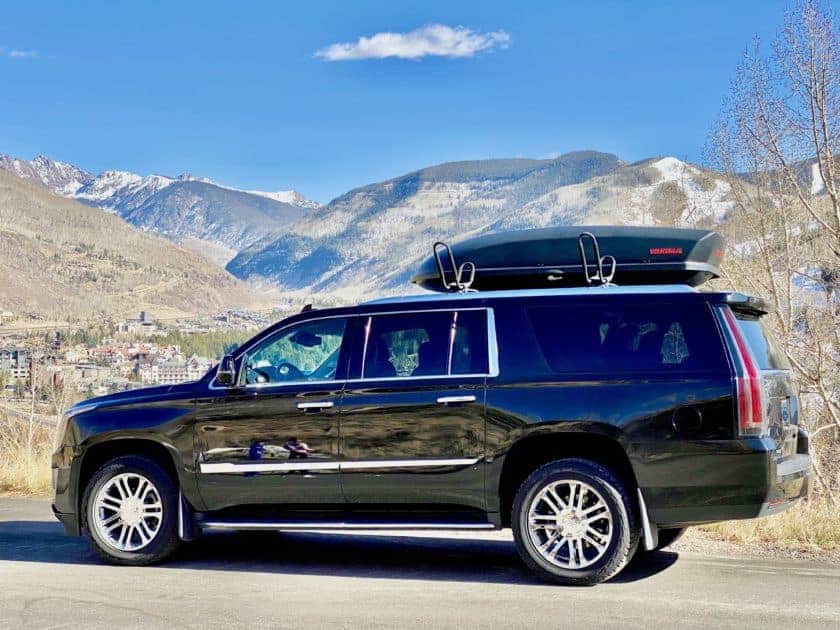 Eagle County Airport Limousine
Using a private limousine service from EGE is just the smart thing to do. Many times (especially when traveling with larger groups) it's actually more cost effective to use a private limo when going from Eagle County Airport, because you pay per car and not per person. Check out our great rates and see for yourself.
Vail Airport Transportation
Guarantee of Excellence
Blue Sky Limo has been top rated by our loyal customers for quality of service, cleanliness of vehicles, and overall professionalism for many years. Your complete satisfaction will always be our top priority. You're be in good hands when you travel with Blue Sky Limo. Give Us a Call Today or Book Online!
Our Eagle & Vail Airport Transportation Reviews
Blue Sky Limo Eagle, Colorado
Blue Sky Limo is your preferred Eagle Airport private car service and Vail airport transportation provider. We offer Meet & Greet Services inside the airport for our passengers to assistance with your luggage. Our driver will meet you outside the airport and escort you to your luxury private car. Blue Sky Limo updates all flight arrival times and we arrive when your plane lands, no matter whether you arrive late or early.
Ride The Rockies in Style
with Blue Sky Limo!
Colorado Rocky Mountain Airport Car Service Destinations