Luxury Eagle Airport Car Service
Ride the Rockies in Style!
Eagle Airport Car Service & Private Shuttle | Blue Sky Limo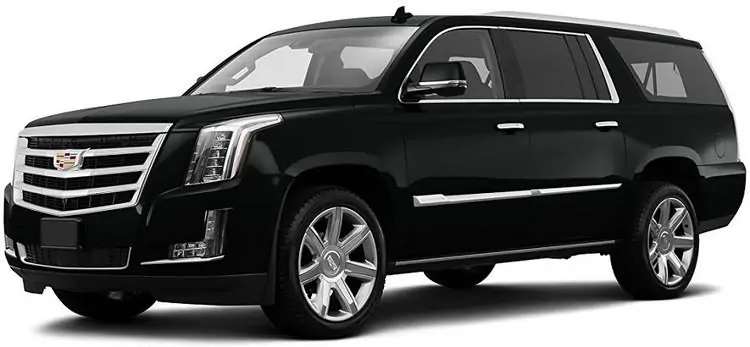 Eagle Airport Car Service & Private Shuttle
Blue Sky Limo
264 Chambers Ave #3892
Eagle, CO 81631
(970) 401-7001
Eagle, Colorado Luxury Car Service
5-Star Private Eagle Airport Car Service
Relaxing, reliable and convenient, our Eagle airport car service will transport you and your party in style and comfort to and from Eagle Airport. Let us worry about your travel arrangements while you sit back and enjoy the ride. All our vehicles come equipped with cutting-edge in car entertainment systems, fast Wi-Fi, device charging stations, complementary beverages, the latest magazines, and much more for your pleasure and convenience.
Luxury Eagle County Airport Private Car Service
We offer highly competitive prices, combined with quality professional drivers.
Eagle Airport Private Car Service Rates:
Blue Sky Limo offers chauffeured limousine service to and from Eagle Airport. Our professional and courteous drivers are ready to assist you in all your travel requirements. We will meet you directly inside the terminal exactly on time. Our company actively monitors all flight information and will arrive depending on your flight itinerary. We are fully flexible and available for Eagle Airport pickup and drop-off 24/7.
Eagle Airport, Colorado
To/From:
Large SUV (1-5 pax)
Large 6-PAX SUV (1-6 pax)
Breckenridge/Keystone
$700+
$800+
Vail
$300+
$350+
Avon/Beaver Creek
$300+
$350+
Cordillera
$300+
$350+
Aspen/Snowmass
$650+
$700+
PLEASE NOTE: Published rates are heavily dependent on season, weather conditions and vehicle availability. To get a guaranteed quote please use our online booking system which is always up to date, or call our friendly reservations staff.
* Above rates are valid for Online Reservations Only. Booking fee may apply if booked through concierges or via phone.
* 10% Fuel Surcharge will be added to all the rates listed above. The rates listed are per vehicle, not per person. One way, not Round trip.
* Please add 10% to the rate if travelling from 12am till 6am.
* Online prices may be different if travelling during any Long Weekends, School Breaks, Holiday Periods and Severe Weather Conditions.
* Holiday Surcharge and/or Severe Weather Surcharge may be added.
* $100.00 gate airport fee charged for all Private Jet arrivals and departures.
* All reservations must be canceled at least 72 hours prior to pick-up time. All not canceled trips will be charged in full for the reservation.
Eagle Airport Shuttle
Are you flying into Eagle Regional Airport and looking for a safe, reliable and convenient shuttle service to take you from Eagle to your destination of choice? BlueSkyLimo is at your service! We offer premium private shuttle service for up to 7-passengers in our large roomy luxury SUVs. Our drivers are ready to assist you with all your luggage and take you from the airport to your hotel or residence, so you can just sit back, relax and enjoy the ride!
What Transportation Options are Available at Eagle County Airport?
There are several transportation options available at Eagle County Airport. These include shared shuttles, taxi service, private cars and car rentals. There are several factors to consider when arranging transportation at Eagle Airport. The most important of these is going to be budget, number of travelers and time of year.
Transportation Options at Eagle County Airport:
If you are flying into Eagle Airport, you will need to arrange for ground transportation to and from the airport.  It is important to arrange your means of transport well in advance, especially during the very busy winter season, as many services sell out fast, and the last thing you want is to be stranded at the airport in the middle of a blizzard.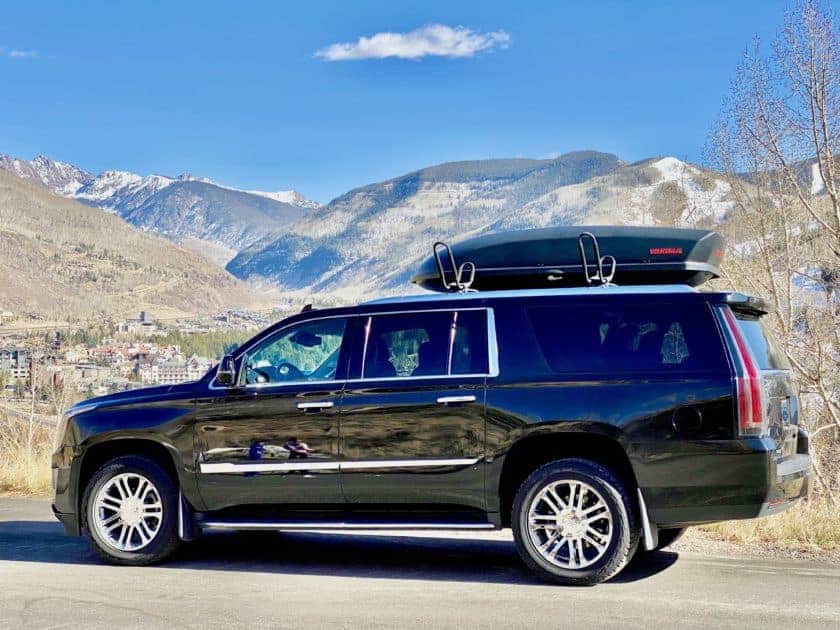 1. Eagle Airport Private Car Service
A private car service allows the greatest flexibility, convenience and piece of mind of all the transportation options available at EGE. With a confirmed reservation you will know for sure that there will be a driver to meet you as you disembark your flight. Typically these companies use large high-end SUVs with 4WD which is the preferred means of transfer through the Rockies, especially during the winter months when weather conditions might become dangerous very quickly.
2. Eagle Airport Shuttle
Shared airport shuttles do operate out of Eagle Regional Airport. Their main attraction is a lower price fare compared to a private transportation service, however there are many limitations that need to be considered before taking this route. First of all, if you are traveling with a group or family greater than 3 in number, then it might actually be just as expensive to pay for individual shared shuttle tickets, rather than your own private car. You are usually better off getting a private airport shuttle from Eagle County Airport.
3. Car Rental
There are a couple of major car rental services available at EGE. Having a rented car does of course provide the most flexibility for your stay in the Rockies, but again there are some very important considerations to make before choosing this transportation option from Eagle Airport. First of all, there is the cost. Car rentals at Eagle are going to be substantially more expensive than the rest of the United States. Gas prices in the mountains are also typically 30-50% higher than the rest of the country. Parking rates (if you can find a spot) are also outrageously expensive. So the real question is; how much driving are you really going to be doing, and is it worth getting a car?
4. Taxi Service
Traditional taxi services are available to and from Eagle Regional airport. The costs are generally slightly cheaper than private car reservations, but availability during busy seasons is far from ideal. Relying on a cab to be there when you land is probably not the wisest decision. Mostly these Taxi operators are driving smaller sized sedans, so luggage and sport equipment transportation from Eagle Airport become problematic. If you are coming solo, or as a couple, a Taxi might be a good choice; but again taking a gamble on a cab being there when you land is pretty risky.
5. Ride Share Companies
Rideshares have only recently started being allowed for passenger pickups and dropoffs. For many years, they operated "under the table" by putting the destination location as the nearby Costco and adding a message to "meet outside the airport". Eagle County Airport officials decided that this practice was detrimental to the airport and travelers in general, so now there is a designated spot for rideshares to operate just outside the airport terminal (though it is still a good walking distance away from the other ground transportation hubs)
Eagle County Regional Airport by Private Car
Lets face it: using a shared car service when traveling from Eagle Airport just isn't fun or convenient. Not only do you get squished in like a sardine between passengers you don't even know, you also have to wait for others to arrive, make frequent stops that add to travel times, and only have a limited amount of space to fit all your belongings. With a private car service from Eagle, you have your own car, tons of room, plenty of cargo space, and you don't have to wait for anyone!
Using a private limousine service from EGE is just the smart thing to do. Many times (especially when traveling with larger groups) it's actually more cost effective to use a private limo when going from Eagle County Airport, because you pay per car and not per person. Check out our great rates and see for yourself.
Guarantee of Excellence
Blue Sky Limo has been top rated by our loyal customers for quality of service, cleanliness of vehicles, and overall professionalism for many years. Your complete satisfaction will always be our top priority. You're be in good hands when you travel with Blue Sky Limo. Give Us a Call Today or Book Online!
Happy Customer Reviews on Google!
Chauffeured Private Vehicles
Blue Sky Limo is fully licensed with Eagle County Airport (EGE). We are Eagle's preferred chauffeured airport car provider. Eagle County has very strict licensing protocols and regulations for all airport car companies, and we are fully accredited and in compliance with all such regulations. As Eagle's highest rated and best airport private car service, we pride ourselves on our attention to detail, promptness, and reliability. 100% complete customer satisfaction will always be our #1 goal.
Blue Sky Limo Eagle, Colorado
Blue Sky Limo is your preferred Eagle Car Service. We offer Meet and Greet Services inside Eagle Airport, and assistance with your luggage. The driver will meet passengers inside the airport with a sign displaying the passenger's name, immediately assists with the luggage*, and escort you to your luxury private car. Blue Sky Limo updates all flight arrival times and we arrive when your plane lands, no matter whether you arrive late or early. Get from Eagle Airport with Blue Sky Limo in style and comfort!
Eagle Airport (EGE) Meet & Greet Procedure
Please turn on your cell phone after you land, and you should receive a text message or a voicemail with your driver's phone number.
Proceed to the baggage claim and collect your luggage.
After you pick up your luggage, please contact your driver or Blue Sky Limo Customer Service at (970) 401-7001 to let us know that you are ready to be picked up.
Your driver will meet you at the "Meet and Greet" area of Eagle County Airport, located right next to the baggage claim by the Door #6. The driver will be holding a sign with your name on it.
*Please note that it is against Eagle Airport Rules for the drivers to enter the Baggage Claim Area and assist with the luggage. If you need assistance in picking up your luggage from the belt, please get a sky cab service always available at the baggage claim. Once you cross the lane that divides Meeting Area and the Baggage Claim, from there our driver will immediately be happy to assist you with luggage, and escort you straight to your SUV.
Eagle Airport Car Service | Blue Sky Limo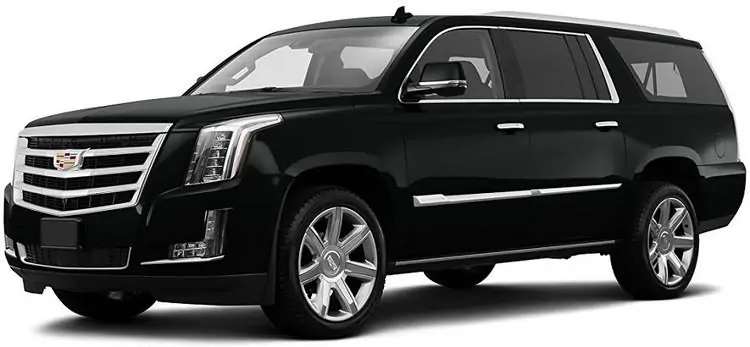 Address:
264 Chambers Ave #3892, Eagle, Eagle County, 81631, USA
URL: https://blueskylimovail.com/locations/eagle-airport/
Price indication: $$$
Open 24/7