Best Hotels in Beaver Creek, Colorado
Best Hotels in Beaver Creek, Colorado
Beaver Creek is a great family ski resort with plenty of amazing skiing for all family members and abilities. Beaver Creek, Colorado offers an unrivaled experience when it comes to quality skiing and luxurious accommodations. At Beaver Creek, you are "not exactly roughing it" with beautiful, European-style vacations, excellent dining options, and some of Colorado's best mountain slopes. For the non-skier, Beaver Creek also boasts a list of other winter activities that will keep you coming back to explore the endless adventures that can be found on the mountains.

Try sleigh riding to dinner, hot air balloon rides, snowshoeing, Nordic skiing, and more. Similar to winter, summers in Beaver Creek are truly majestic. If you enjoy hiking, fishing, golf, or just award-winning dining, you are sure to find exactly what you are looking for in Beaver Creek. There is an unrivaled list of year-round adventures to keep guests coming back year after year.
Best Hotels in Beaver Creek Table of Contents
If you are planning a ski trip to Colorado Mountains this fall or winter, then you have come to the right place. Beaver Creek is definitely known for its family-friendly atmosphere, but it maintains both a spirit and luxury that appeals to a younger crowd.
Located about 3 miles and a 7-minute drive from the town of Avon and I-70, the village of Beaver Creek makes a luxurious and convenient home base in the Rocky Mountains. Most of the hotels are upscale, so expect to a pay premium to reside mountainside. There are some ski-in/ski-out accommodations available. Please check out our travel guide for the best hotels in Beaver Creek, and make your stay in this beautiful mountain town special and unforgettable.
Beaver Creek Accommodation
Beaver Creek offers a wide range of accommodations to suit every traveler's needs. From luxurious resort hotels to ski-in/ski-out properties, and vacation condo rentals, you'll find the perfect place to stay.
Park Hyatt Beaver Creek Resort and Spa
Highlands Lodge
Highlands Lodge is a perfect option for the larger families and groups of friends, with prime ski access and wonderful facilities in Beaver Creek. The Lodge provides guests with a great location, top-quality facilities and, of course, space and comfort within your condominium for a relaxing ski vacation in Beaver Creek.
Highlands offers three-bedroom condominiums, ski-in, ski-out access, stunning mountain or valley vistas and easy access to the beginner's slope – ideal for the kids.
Highlands Lodge has earned a reputation for comfort and convenience as one of the best Beaver Creek Colorado hotels. Located in The Highlands area and directly adjacent to the slopes, the ski-in/ski-out access through the ski locker room directly onto the ski slopes of Beaver Creek keeps these vacation residences in high demand all season long.

Guests can ski in and out of the Highlands Lodge to the Highlands Chairlift or take the beginner-level Highlands Skiway to the base of the Beaver Creek Resort and the Centennial Express Chairlift and Buckaroo Express Gondola. Guests at Highlands Lodge enjoy on-site, year-round outdoor pool and hot tubs.
Enjoy the area's slopes with cross-country skiing, and don't miss out on the ice skating, snowmobiling, and snow tubing.
Rooms
Discover a selection of 18 vacation rentals around Highlands Lodge, Beaver Creek that are perfect for your trip. Whether you are traveling with friends, family, or even pets, Vrbo vacation homes have the best amenities for hanging out with the people that matter most, including swimming pools and WiFi.
All of the three-bedroom condos at Highlands Lodge are extremely spacious and well-equipped. The main living areas feature full kitchens, dining tables and cozy lounges with fireplaces so you can chill out with a glass of wine around the fire. Many of the third and fourth floor units include large cathedral windows and vaulted ceilings so you can really make the most of your natural surroundings and the space within your condo.
Spa
Beaver Creek Lodge does not have a spa located inside the hotel. Two great spas are also a short walk away in the neighborhood of Beaver Creek.
Bottom Line
Highlands Lodge is well known for comfort and convenience in the heart of Beaver Creek Village. Located in The Highlands area and next to ski runs, the ski-in/ski-out access allows for the ultimate in convenience. These vacation rentals are in high demand in the winter time and also during the warmer months.
Guests can ski directly in and out of several of these residences; the rest utilize the comfortable ski locker room with ski storage and access right onto the Haymeadow run. Relax in the property's great room, complete with a stone fireplace and a deck overlooking the slopes
Guests of Highlands enjoy a year-round outdoor swimming pool and hot tubs just outside the main door.
The Pines Lodge
The Pines Lodge is an upscale ski-in/ski-out resort located in Beaver Creek, Colorado. This intimate and elegant lodge is situated just a 12-minute walk from Elkhorn Lift 14 at Beaver Creek Mountain, and a short drive from the heart of Beaver Creek Village.
The Pines Lodge offers a unique blend of alpine sophistication and homely comfort. Each of the 60 rooms is designed to offer a warm and inviting atmosphere, with stunning views of the surrounding mountains. The lodge also features a number of amenities including free Wi-Fi, an outdoor pool, and air conditioning.
One of the standout features of The Pines Lodge is its location. Nestled in the heart of the Colorado Rockies, the lodge offers easy access to Beaver Creek's renowned slopes. This makes it the perfect choice for those looking to hit the slopes during the winter months. But the appeal of The Pines Lodge extends beyond just the winter. Its location in Beaver Creek means that guests are also close to a host of activities including hiking, mountain biking, and golf during the summer months.
When it comes to dining, The Pines Lodge does not disappoint. The lodge is home to a gourmet restaurant that serves a variety of dishes made from locally sourced ingredients. Whether you're looking for a hearty breakfast to fuel a day on the slopes or a romantic dinner for two, the restaurant at The Pines Lodge has you covered.
In addition to its rooms and suites, The Pines Lodge also offers private condos and townhomes. These offer a bit more space and privacy, making them a great option for families or larger groups.
Overall, The Pines Lodge offers a luxurious yet intimate lodging experience. With its prime location, comfortable accommodations, and top-notch amenities, it's no wonder that The Pines Lodge is a favorite among visitors to Beaver Creek.
For more information, visit the official website or check out the reviews on TripAdvisor.
Beaver Creek Lodge
Situated in the heart of Beaver Creek Village and steps from world-class skiing, shopping and dining, the all-suite Beaver Creek Lodge is the perfect place to enjoy the beauty and splendor of the mountains, while indulging in exquisite amenities unparalleled in the area. Modern and rustic interior design, fine art, casual upscale dining.
4-star family-friendly resort in the heart of Beaver Creek. Providing easy access to the ski lifts Beaver Creek Lodge Autograph Collection offers luxurious accommodation that features an outdoor pool.
Despite its name, the Beaver Creek Lodge in Beaver Creek, Colorado, is anything but an ordinary mountain lodge. Resting at the base of the Beaver Creek Ski Resort, this property adds a pinch of contemporary spice to the traditional Rockies resort. Beds here are adorned by furry throw pillows, while the lobby ceiling is illuminated by red lights.

No doubt, you'll occasionally find kitschy cabin-style wood furniture here and there, but the Beaver Creek Lodge ultimately caters to the hip and stylish rather than the traditional ski town visitor. Guests are generally delighted with the hotel's ambiance, not to mention the excellent customer service.
Rooms
There are 72 rooms at Beaver Creek Lodge Autograph Collection, each offering all the necessities to ensure a comfortable stay. The rooms at Beaver Creek Lodge are traditional in design, featuring a neutral color palette with dark wooden furnishings and faux fur trimmed pillows and throws, bringing the natural surroundings of Colorado into the guest rooms.
On Site Ski Rental
Christy Sports located inside the hotel offers in-house ski rental for the guests.
Adventure into the beautiful mountains of Beaver Creek or Vail, and let them worry about all the details. Rent everything you need just steps from the lobby, and use the extra time to fully explore the Rockies, chasing every thrill and whim.
Charter at Beaver Creek
Located in the heart of Beaver Creek Ski Resort, The Charter invites guests to indulge themselves at its ski-in and ski-out condominiums within walking distance to Beaver Creek Village, and provides its guests with hospitality and luxury. This European-style lodge is almost as pretty to look at as the breathtaking mountains surrounding it.
The resort is recognized for its first-class luxury hotel services and has been listed by Condé Nast as one of the "Top 50 Ski Hotels in the US and Canada".
Kick back and enjoy your family's next Colorado vacation when you book this bright and spacious mountain getaway presented by The Charter at Beaver Creek. Whether you are here for the fantastic wintertime skiing, or for the adventurous summer hikes and whitewater adventures, you will only have great memories left after your amazing stay.
At The Charter at Beaver Creek, you can look forward to 18 holes of golf, a terrace, and shopping on site. Hit the slopes at this hotel offering ski-in/ski-out access, downhill skiing, and ski storage. Treat yourself to a Swedish massage, a body wrap, or hydrotherapy at the onsite spa. Enjoy a meal at the two-onsite restaurants.
Rooms
Guests at The Charter can choose from luxury hotel rooms or individually owned 1-bedroom to 5-bedroom condominiums. The hotel provides 24-hour service from the front desk, valet ski storage, and plush robes.
Lodge rooms are available and very priced pretty affordable for the comfort of you and your loved ones. Each interior features rustic details and cozy furniture for an authentic Colorado atmosphere throughout your stay. The standard hotels rooms are very popular for the couples visiting Beaver Creek and looking for a romantic stay.
Reserve one of 1- to 5-bedroom condominiums with a fully equipped kitchen, washer and dryer, and living room with a cozy wood-burning fireplace and a balcony or patio, and have your whole family stay together for an unforgettable mountain gateway.
Dining
Charter offers two restaurants on site for hotel visitors.
The Terrace is the perfect place to start your day with a delicious cup of coffee. The restaurant offers breakfast buffet featuring scrambled eggs, rotating egg special, potatoes, breakfast meat, pastries, cereal, oatmeal, fruit, pancakes, French toast, and yogurt.
Black Diamond Bistro is a "Modern Mountain Bistro" featuring made from scratch locally sourced foods. It is a perfect place to enjoy dinner with friends or family. The Bistro serves contemporary American fare in a friendly and relaxed setting, surrounded by breathtaking views of Beaver creek. Pair your meal with a skillfully selected bottle of wine from our extensive wine list. Black Diamond has a full bar featuring the best artisan handcrafted cocktails in Beaver Creek.
Pricing
Standard room rates start at $177 and suite nightly rentals start at $1000 and go up depending on the season. The hotel is a 3.5-star hotel in the heart of Beaver Creek, so the prices will probably be the most affordable in Beaver Creek.
Wedding Venue
The Charter at Beaver Creek is a European-style lodge and also a wedding venue located in Beaver Creek, Colorado. The property offers elegant accommodations and multiple versatile event spaces for ceremonies and receptions, including a brand new wedding deck overlooking Beaver Creek Mountain. The venue provides both local and out-of-town to-be-weds with a destination experience for their special day overseen by professional event staff.
When celebrating at The Charter at Beaver Creek, couples can share their day with up to 150 guests. The Terrace Restaurant and Patio offers gorgeous views of Beaver Creek Mountain through floor-to-ceiling windows and an outdoor patio. Another indoor option, the Black Diamond Bistro, is also available for to-be-weds. This intimate space features a stone fireplace and picturesque scenery, creating a romantic ambience for any celebration.
For ceremonies, couples are welcome to exchange vows on the Wedding Deck overlooking the pool area.
St. James Place
The St. James Place is one of Beaver Creek's premiere condominium properties. Situated steps from the ski lifts, along the pedestrian village, guests will enjoy the convenient access to the shopping plaza's world-class boutiques, galleries, restaurants, and year-round ice-skating rink. St. James Place is a condominium resort that offers an alpine escape unlike any other with entertainment and opportunities for adventure available at every corner.

Guests enjoy the European style feel that is offered to them while staying in Beaver Creek Village. Winter guests at St. James Place enjoy world-class downhill skiing, cross-country skiing, snowboarding and sledding. During the warmer months, there is no end to outdoor fun, including swimming, boating and other lake activities, along with mountain biking, hiking, and much more.

For those that prefer to stay in and take advantage of the world-class amenities available to them, St. James Place does not disappoint with its wonderful on-site facilities. A state-of-the-art exercise center, indoor pool, indoor/outdoor hot tubs, ski valet, massage services, and high-speed internet access make The St. James Place the ideal Beaver Creek resort destination.
Rooms
Lodging at the St. James Place consists of one-, two-, three- and four-bedroom condos that are tastefully decorated in an old-western atmosphere.
St James Place Resort offers 108 accommodations.
The property has 30 apartments that have been recently remodeled, and boast some of the largest floor plans of all the fractional ownership options in Beaver Creek, CO. Standard units offer fully equipped kitchens, spacious bathrooms with spa tubs, plus a washer and dryer. Premium units are dressed in modern furnishings, fully equipped kitchens, large bathrooms with spa tubs, plus a washer and dryer as well.
Each condominium unit is furnished to the owners taste, all of which welcome the guests to this unique property where you will enjoy superior service and exceptional creature comforts in the heart of the Rockies.
Dining
St James Place has 2 its own on-site restaurants, perfect for those who prefer to eat in. In warm weather, guests are invited to dine on the outdoor terrace.
2 Full-service restaurants, Dusty Boot and Met Kitchen
Quick-service, Beaver Creek Market
Spa
The hotel does not have its own spa on site. World-class spa treatment is also a short walk away with two beautiful spas to choose from.
Pricing
Pricing starts at $274 per night based on average nightly rates for a Standard Room. Self parking is free at this property.
Elkhorn Lodge
At this resort lodging, guests can enjoy an unforgettable ski or golf vacation while experiencing the luxury living that Beaver Creek has to offer. Located just outside the base village, but serviced by its own personal lift, Elkhorn Lodge has everything your crew needs for an unforgettable ski trip. The beauty of this hotel will amaze you: you will admire Rocky Mountain style décor, complete with log beams, a roaring fireplace and a chandelier made of deer antlers. If your crew is eager to hit the slopes the minute you arrive, just grab your gear and go – the Elkhorn Lift is right outside!
Elkhorn Lodge guests can enjoy European-style, village-to-village skiing between Arrowhead, Bachelor Gulch and Beaver Creek villages. Enjoy gourmet, fully equipped kitchens, oversized jetted bathtubs and a state-of-the-art exercise facility. Gather your family around the fireplace and celebrate an excellent Colorado vacation in Beaver Creek Resort. The Elkhorn Lodge offers its own private ski lift, outdoor hot tubs and is a quick walk or shuttle ride to gourmet dining, world-class shopping and the Vilar Performing Arts Center.
Rooms
Elkhorn Lodge offers 52 accommodations, so you can find your favorite and a unique vacation rental for you to enjoy a memorable holiday or a ski weekend with your family and friends.
The rustic-yet-upscale vibe of the lobby continues in the suites, which are roomy and inviting. Studios and one- to three-bedrooms boast full kitchens and cozy fireplaces. In suite washer/dryer lets you pack light and makes sure everyone has fresh long johns to ski in. For some extra space, book a suite with loft – kiddos love having their own little hideaway for movies and blanket forts. Larger families and friend groups staying in one- to three-bedroom suites also enjoy a spacious furnished patio.
Accommodations include studios to three-bedroom plus loft condominiums. Each unit is individually decorated in true mountain style. Considered one of the premier lodging buildings in Beaver Creek, each individual unit is certain to provide comfort and ambiance for every guest. This distinctive Beaver Creek location is truly a premier condominium escape, appointed with the very finest finishes and gourmet kitchens to make it both unique and elegant.
Keep in mind, Housekeeping is available once per stay.
Spa
Beaver Creek Lodge does not have a spa located inside the hotel. Two great spas are also a short walk away in the neighborhood of Beaver Creek.
Exhale® Beaver Creek is located inside Park Hyatt Beaver Creek Resort and Spa and Spa Anjali at The Charter is another great option for you.
Pricing
$459/night is a good average price right now, and some users have even reported deals that start from only $263/night. However, prices can change based on the time of year you're booking, the type of room you prefer, etc.
Standard Room rates start from $205 in the off-season. Resort fee is $22.20 per accommodation, per night.
Address:
Elkhorn Lodge,
51 Offerson Rd, Avon, CO 81620
Read more at https://www.vrbo.com/vacation-rentals/usa/colorado/northwest/beaver-creek/elkhorn-lodge
Bottom Line
Elkhorn Lodge at Beaver Creek offers a true year-round experience. Located adjacent to the Beaver Creek Golf Clubhouse for summer golfing and in the winter season, Elkhorn Lodge guests can simply walk out the door and catch the Elkhorn Lift for a true ski-in/ski-out experience.
The luxury accommodations and superior amenities set it apart from other Beaver Creek properties, while the five-star service at The Elkhorn Lodge allows it to be considered one of Colorado's best options when it comes to ski resort lodging. The Elkhorn Lodge is truly one you must experience for yourself.
Read more at:
https://www.vrbo.com/vacation-rentals/usa/colorado/northwest/beaver-creek/elkhorn-lodge
https://www.ski.com/beaver-creek-lodging/elkhorn-lodgehttps://www.sportsamerica.com/lodging/Elkhorn-Lodge,condo,beaver.php
Poste Montane Lodge
With all the warmth and personality of a traditional European Inn, the Poste Montane Lodge has brought Old World charm to the heart of Beaver Creek Village.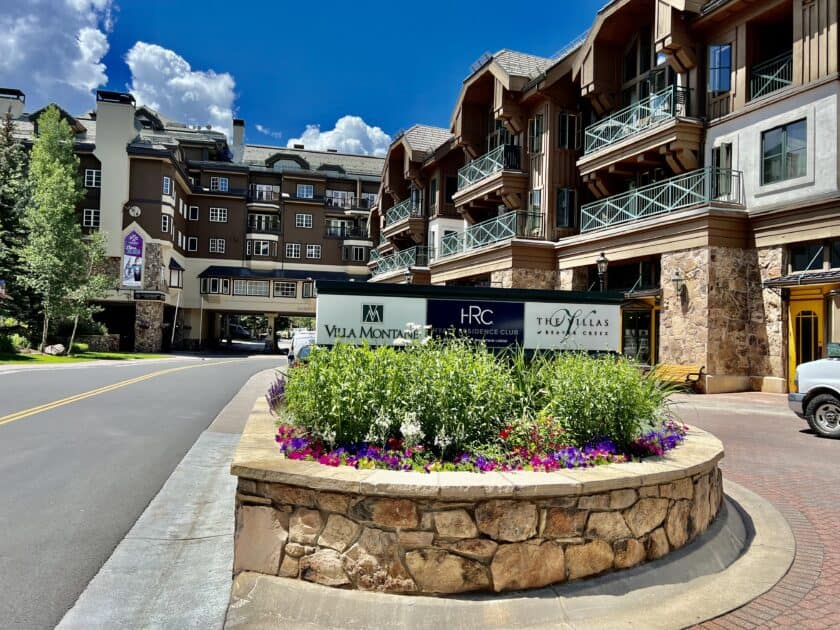 The Poste Montane Lodge is located in the heart of Beaver Village in Colorado and only within a 5-minute walk from the Buckaroo Gondola. Entertainment, shopping, and dining are only a few minutes' walk from the hotel while an ice skating rink is right near the hotel.
Located in the center of Beaver Creek Village, less than 5 minutes' walk to the Centennial Elevator, this hotel features free Wi-Fi and a daily breakfast. Take advantage of free continental breakfast, 18 holes of golf, and a library at Poste Montane Lodge! A hot tub, steam room and sauna are located on site.
From the moment you are greeted at Poste Montane in Beaver Creek village, guests feel the inviting warmth of a true European style mountain retreat. Relaxed yet refined accommodations and friendly, personalized service come together to create unmatched comfort and a sense of home year-round.
Rooms
Poste Montane Lodge offers 24 non-smoking suites.
Completed in 1982 and opened in 1983, this Italian-designed European Inn is built with the finest finish materials. Lodging at the hotel ranges from deluxe lodge rooms to junior suites, one-bedroom suites, two-bedroom suites, and a Presidential Suite. Each room offers a large bed, a wood burning fireplace, and a seating area. There is an LCD television with a DVD player, personal safe, mini refrigerator, walk-in closet, ceiling fan, and deluxe bedding.
The bathroom is tile and marble with an oversize tub, custom spa amenities, and thick robes. Suites offer a queen size sofa sleeper and are more spacious than the traditional rooms. Though the Presidential Suite is the only unit with a full kitchen, lobby amenities such as daily breakfast and weekly wine and cheese parties combined with impeccable service provide for hassle-free vacations.
The friendly staff of the Poste Montane Lodge attends to every detail in this intimate 24-suite mountain lodge, from extra feather pillows to freshly brewed coffee and complimentary breakfast in the lobby. Enjoy vacation rental suites and lodge rooms that provide a spacious respite perfect for families and groups. Poste Montane condominiums combine the comfort of home with resort services and convenience.
Spa
Poste Montane Lodge does not have a spa located inside the hotel. Two great spas are also a short walk away in the neighborhood of Beaver Creek.
Exhale® Beaver Creek is located inside Park Hyatt Beaver Creek Resort and Spa and Spa Anjali at The Charter is the other great option for you.
Bottom Line
This European-style mountain inn is in the heart of Beaver Creek's pedestrian village, close to ski slopes, an 18-hole golf course, restaurants, ice-skating, and shops. Resort amenities include a sauna, whirlpool, and an on-site restaurant. Complimentary deluxe Continental breakfast is served daily.
Guests will also enjoy tennis courts, hiking trails, and fishing and rafting in nearby rivers. With a stay at this Beaver Creek lodge, you'll be steps from Vilar Performing Arts Center and Beaver Creek Hiking Center. Beaver Creek Nordic Center and Chapel at Beaver Creek are also within half a mile (1 km).
Read more at:
https://www.booking.com/hotel/us/poste-montane-lodge.html
https://www.lodgingcompany.com/lodging/beaver-creek/beaver-creek/condo/poste-montane-lodgehttps://www.hotels.com/ho228970/poste-montane-lodge-avon-united-states-of-america/
Final Thoughts
Beaver Creek, Colorado offers an unforgettable experience when it comes to quality skiing and luxurious accommodations. The resort is definitely known for its family-friendly atmosphere, but it maintains both a spirit and luxury that appeals to a younger crowd as well.
Most of the hotels in Beaver Creek are upscale, so expect to a pay premium to reside mountainside. There are some ski-in/ski-out accommodations available, while the other hotels are right in the middle of all the action with the immediate access to Vilar Center, Ice Skating and all the Mountain Resort shopping you may need to do while visiting Beaver Creek. Some more affordable options might also be found in the neighboring town of Avon, which also has some fabulous hotels. Check out our full "Best Hotels in Avon, Colorado Guide" to learn more about some of the great options available.
No matter what choice you make, whether you decide to stay at the foot of the Beaver Creek lifts or closer to all the restaurants in town, we can guarantee your mountain gateway will be an unforgettable one.